Across the Region's landscape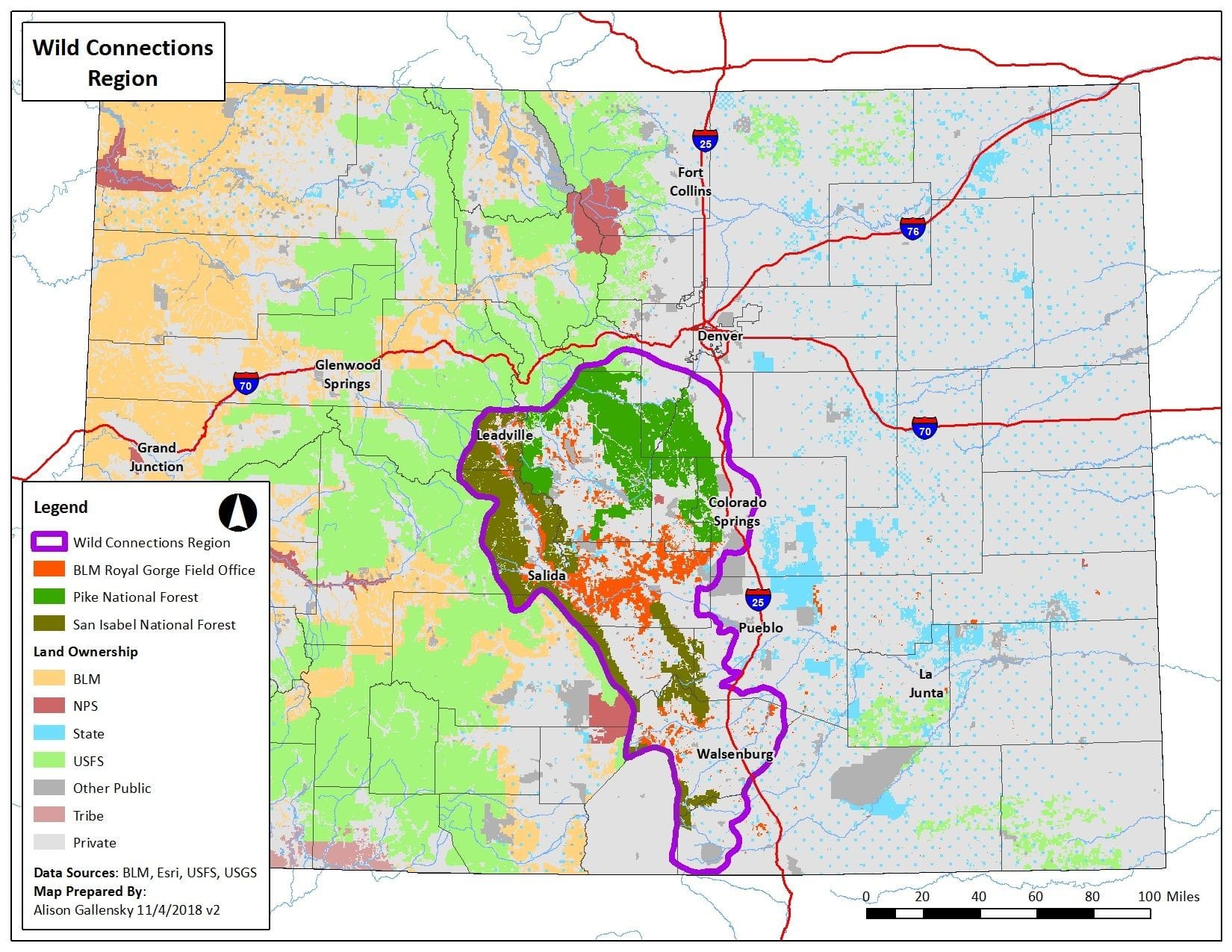 Map Alison Gallensky, Wild Connections
The
Bureau of La
nd Management and the US Forest Service are stewards of 2,780,000 acres of federal lands in our region. Management plans guide all their activities.
BUREAU OF LAND MANAGEMENT EASTERN COLORADO RESOURCE MANAGEMENT PLAN (ECRMP)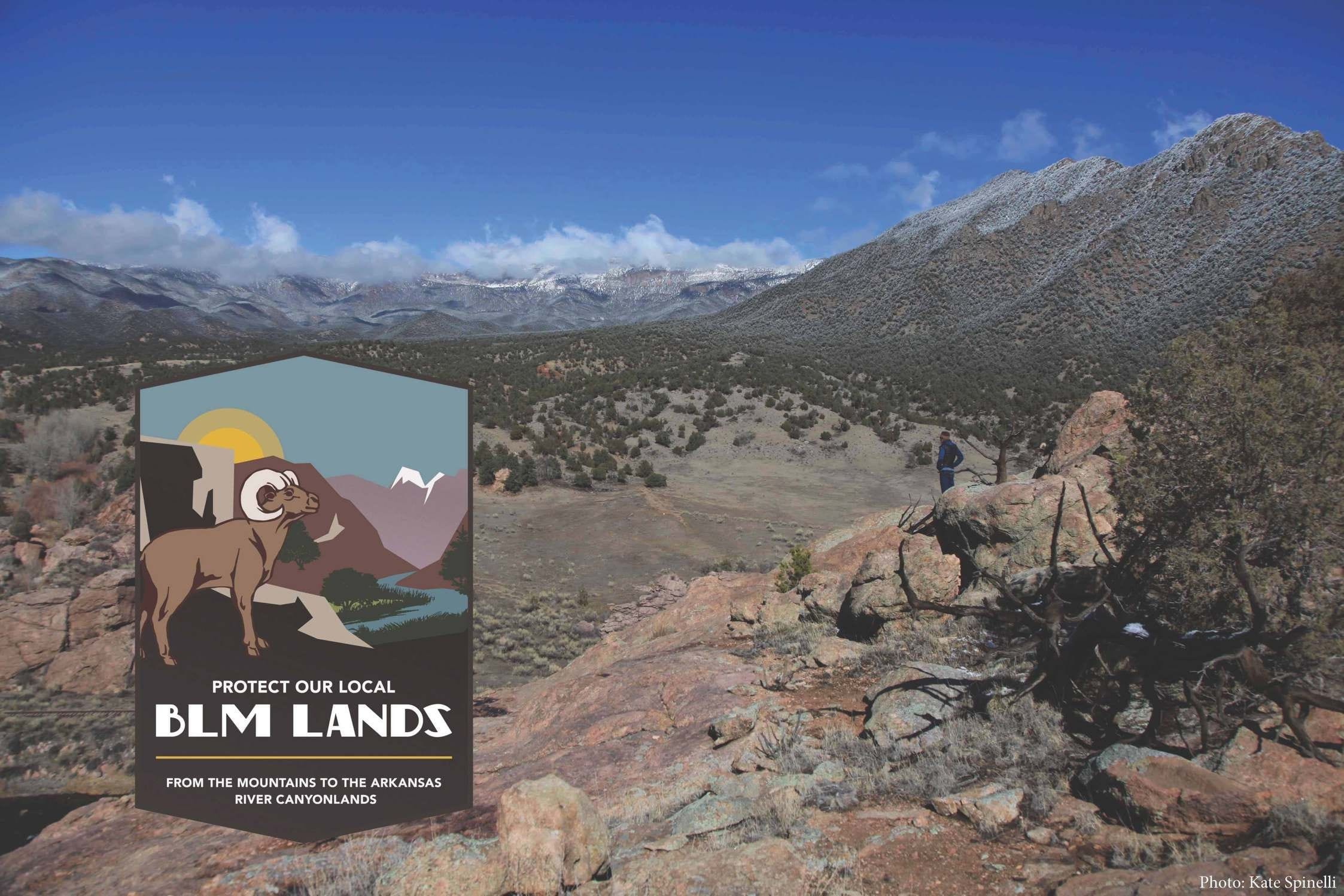 A vew across the Table Mountain in the Arkansas Canyon. Photo Kate Spinelli
BLM's Eastern Colorado Resource Management Plan revision, which began in 2015, will determine how about 670,000 acres of BLM public land will be managed in central Colorado.
The BLM is moving forward with their analysis and coordination with cooperators for the Final ECRMP, which will not be available to the public until fall 2022.
Wild Connections, in coordination with the local conservation and sporting community, worked on a Conservation Alternative for the ECRMP. We submitted this to the BLM in August 2021 as a resource as they prepare for the final stage in this plan. The provisions of the conservation alternative would provide protections for the most deserving BLM wild areas and wildlife.
The conservation alternative did not address fluid minerals, solid minerals, and coal resources because we believe those require additional analysis and consideration. We asked BLM to remove those components and related climate analysis from the ECRMP while the Department of the Interior completes its comprehensive review of the oil and gas program and/or until BLM considers a statewide approach to greenhouse gas analysis across relevant BLM-managed lands in Colorado.
PIKE-SAN ISABEL FOREST PLAN REVISION
1984 PSI Forest Plan to be Rev
ised The Pi
ke-San Isabel National Forest is expected to begin revision of their management plan after the Grand Mesa Uncomph
agre Gunni
son National Forrest's planning is completed.
Planning news will be posted here as it becomes available.
Jeep crossing a stream in Farnum area Photo Misi Ballard
Agencies designate routes open to full-sized vehicles, motorcycles, mountain
bike, pack an
imals and foot travelers.
PIKE-SAN ISABEL MOTORIZED VEHCICLE USE MANAGEMENT (MVUM)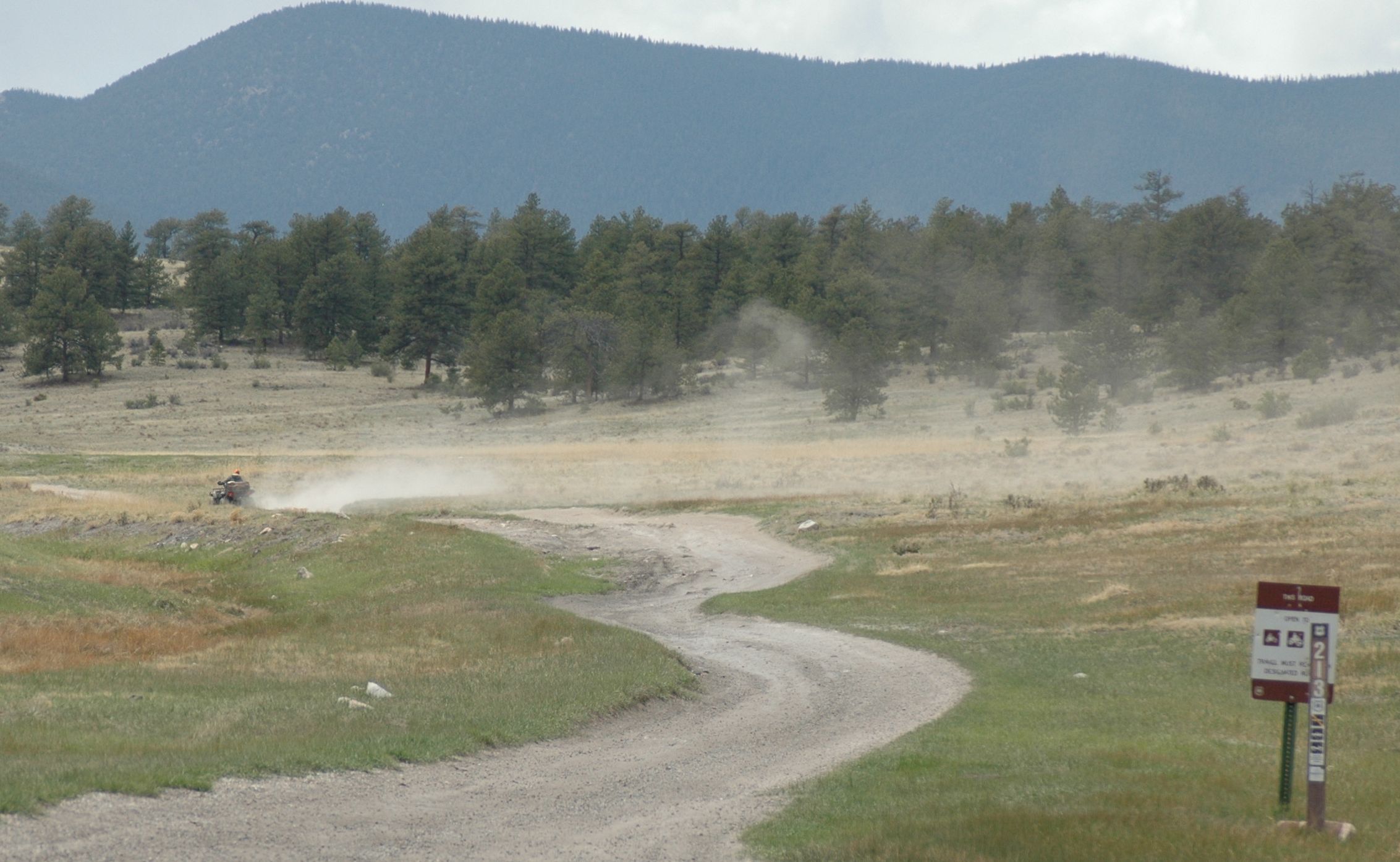 Jeeps, OHVs, motor cycles, moutain bikes, equestrians and a few hikers share Badger Flats' routes. Photo Jean Smith
After several years of working on a court ordered revision of the Forest Service's Pike-San Isabel (PSI) Motorized Vehicle Use Plan, the PSI Travel Management Plan (TMP) is wrapping up with the release of the Draft Record of Decision for Motorized Travel (MVUM)
Wild Connections found the US Forest Service's PSI travel management analysis largely well done, and many of Wild Connections initial recommendations were included.
The USFS hosted a formal objections hearing for those that submitted objection co
mments, including
Wild Connections,. In particular we defended USFS decision to continue to keep motorized use out of Wildcat Canyon, where illegal motorized recreation has become rampant, including in and across the South Platte River.
The Pike-San Isabel Travel Management Plan Revision will be finalized in 2022.
Hikers give way to mountain bikers on an Indian
Creek trail. Ph
oto Don Thompson
The Outside 285 Master plan is a regional planning effort initiatied by the Colorado Mountain Bike Association (COMBA) focused on identifying opportunities for trail improvements and habitat conservation within public lands surrounding the eastern US-285 corridor, from the Front Range to Kenosha Pass.
Wild Connections is part of the Outside 285 Steering Committee, working with a broad range of conservation, recreation and agency stakeholders to ensure consideration and protection for the wild lands and wildlife that call this area home. Our role in this committee is to help protect the remaining wild lands and wildlife along the heavily trafficked and developed US 285 corridor. The draft final plan is found at COMBA's website.